House cleaning & residential housekeeping
At LightHouse house cleaning services, you can be assured of a high quality reliable service you can trust. Contact us today for a quote and see how affordable residential housekeeping can be. Our bonded and insured housekeepers are trained to provide the highest levels of service for your family.
Our professional house cleaning services can be scheduled weekly, bi-weekly, monthly, or as a one-off spring clean at a time convenient to you and can be personalised to meet your specific requirements. We can clean the entire house, focus on particular areas of your home, or just one room if that's what you'd like us to do.
If you're a developer or have recently completed a renovation, we offer post-construction cleaning for builders to prepare a home for sale.
We know life can get busy, and time is a luxury, so consider regular, scheduled, professional housekeeping for your home. Please contact us for a free quote and site survey.
Health & safety
Our staff are fully trained, insured, bonded, reliable, cheerful, and super friendly. What more could you ask for? Our cleaning products are environmentally friendly wherever possible, but we will occasionally use conventional cleaning products if needed to achieve the desired end result.
Customer satisfaction
Customer satisfaction is paramount to us. Our housekeeping teams strive to deliver a consistent, quality service with pre-planned schedules ensuring appointment times are kept.
We aim for 100% customer satisfaction, but if for any reason you're not happy with the cleaning service we've provided, please call us, explain the problem and we'll do our best to put it right.
Check out our Facebook page for more information and comments.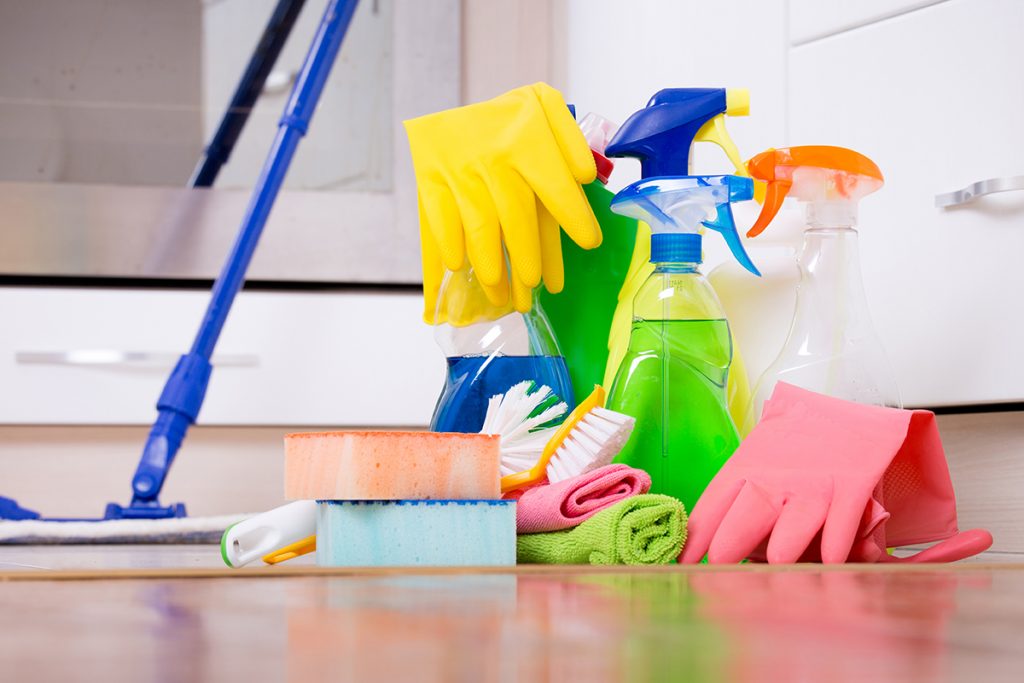 Contact us for a personalized quote
Standard House Cleaning List
All Rooms
Disinfect and wash hard floors and vacuum carpets
Clean hardwood floors
Dusting:

Sills
Blinds
Fixtures
Wall hangings
Lamps and shades
Picture frames and knick-knacks
Hard surface furniture

Disinfect doorknobs
Remove finger prints and smudges from:
Door frames and jambs
Switch plates and switches
Clean mirrors
Clean French door glass
Remove trash and recycling
Kitchen
Disinfect countertops, backsplash, and cabinet doors
Disinfect outer surfaces of appliances:

Refrigerator front, top and sides
Microwave
Dishwasher
Stovetop and backsplash

Clean inside of microwave
Clean drip pans and knobs
Disinfect and shine sink and faucets
Disinfect table and chairs
Living Room
Straighten personal effects
Vacuum upholstered furniture, under cushions
Cushions and pillows fluffed and positioned
Dust television
Bathrooms
Clean and shine mirror
Disinfect sink, faucets, and vanity
Disinfect toilets
Disinfect shower and/or tub
Clean shower door track and/or curtain rod
Clean soap dishes/dispensers
Reline waste baskets
Bedrooms
Make beds (sheets changed on request)
Reposition light furniture as necessary to vacuum room and closets
Straighten personal belongings
Deep House Cleaning List
All Rooms
Taking down and cleaning glass in light fixtures
Spot clean walls
Hand-wash baseboards
Clean heating vents and returns
Clean ceiling fans
Disinfect trash receptacles
High dusting and removing cobwebs
Tops of door jambs
Hand clean perimeter edges of floors
Carpet and upholstery cleaning
Kitchen
Clean grout
Descale faucets
Clean faucet aerators
Degrease stove, drawer, fan hood, and filters
Clean inside of drawers and cabinets
Empty toaster crumb tray
Defrost and clean freezer
Clean and descale coffee maker
Living Room
Disinfect remote controls
Clean and shine television screen
Vacuum under heavy/hard to move furniture
Bathrooms
Clean grout
Descale faucets and shower head
Clean faucet aerators
Remove stains from tubs and commode bowls
Bedrooms
Vacuum mattresses
Move heavy furniture to vacuum underneath
How to prepare for cleaning company services
General preparations
Provide feedback early on in the relationship so we can tailor the visits to your needs
If possible, meet the cleaners on the first visit and walk through the home with them and point out anything that might need special attention or should not be touched
Let others in the household know the cleaning schedule so they can prepare their spaces
If applicable, keep a good stock of your preferred cleaners and vacuum bags
Questions? Contact us for professional cleaning company advice on how to prepare for your maid service.
The day of service
Ensure the spare key, door code, and alarm codes are available
Remove clutter so cleaning can happen: cleaning and organizing are different tasks
Put away "scatter" which is anything out of its natural place like clothes on the floor
Load the dishwasher and put away food on the countertops
Find a spot for pets where they won't be stressed by strangers in their home
Place clean sheets on the bed that needs to be changed
Write a list of special requests for the cleaners
Secure valuables such as cash and jewelery to avoid misunderstandings
Put away important documents, magazine, newspapers, etc. so they are not mistaken for trash